Meth testing homes for your family's safety and peace of mind
Methamphetamine, also known as 'P', 'ice', 'speed', or 'crystal', is a highly addictive, potent chemical that first acts as a stimulant but then begins to shut down the central nervous system and systematically destroy the body. Thus it is associated with serious health conditions and psychotic behaviour.
Methamphetamine (P) residue is a dangerous substance that can linger in your home long after it has been manufactured or smoked, with dangerous side effects after long-term exposure.
At NZ House Surveys you can have a Methamphetamine test conducted on its own or as part of a Building Survey package. When combined with a pre-purchase building report the price of Meth testing is discounted.
The house inspectors at NZ House Surveys are fully trained for Meth testing in homes, so contact the team today!
What is involved in Methamphetamine Screening Assessment?
At NZ House Surveys, our Methamphetamine Screening assessments are guided by the New Zealand Standard (NZS 8510:2017) for 'Testing and Decontamination of Methamphetamine-contaminated properties.'
Our fully trained Meth testing inspectors will individually swab up to ten high-use areas within the home. The swabs are then sent off to a IANZ accredited laboratory for analysis. Our inspectors then provide you with a report on the findings.
Testing types:
At NZ house Surveys you can choose between Composite and Discrete testing.
Laboratory Composite test
Our most popular and cost effective type of testing. A composite test involves each area being swabbed with an individual sample. The samples are then sent to an IANZ accreted laboratory where equal portions of each swab are combined together to be analysed and provide a composite result which represents the average concentration.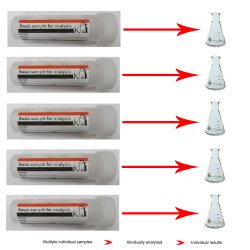 Laboratory Discrete test
A discrete test involves individual swabs taken and analysed individually to give you a result for each specific area. The advantage of individual testing is that it allows you to identify exactly which rooms are over the acceptable threshold for contamination.



Long-term exposure to Meth contaminated houses can have dangerous side effects
The team at NZ House Surveys can test your home to ensure it is free from Methamphetamine residue. The health effects of people living in Methamphetamine (P) contaminated houses can include:
Short term - headaches, nausea, watery and burning eyes, burning skin, coughing, abdominal pain, feeling of coldness or weakness, shortness of breath and dizziness, sleep disorders, convulsions and vertigo
Long term - Cancer, nervous disorders and tremors, damage to kidneys and liver, birth defects, reproductive problems and in extreme cases, death.
Have a Meth test carried out to ensure your home is safe
If you are unsure about the Methamphetamine levels in your next home, ensure you have a home Meth test carried out to ensure your potential home is safe. We Meth test homes in Auckland, Palmerston North, Wellington, Upper and Lower Hutt, Taranaki and Hawkes Bay. NZ House Surveys operates throughout New Zealand, so contact the team today!

Frequently Asked Questions
How reliable are the results?
Our testers have been fully trained to identify the best areas to test within homes and to look for other indications of Methamphetamine use or manufacture. All of our tests are analysed by an IANZ accredited laboratory - Lab testing is the most reliable way to test for the presence of Methamphetamine and tests can identify contamination to a minimum of 0.02 µg/100cm2.
What is the timeframe on the results?
Generally the Lab has a 2 - 3 day turnaround time for the results, however we can arrange 'urgent priority' when requested.
What is the acceptable level of contamination if it is detected?
Under the NZS 8510:2017 remedial action is required if the contamination is greater than 1.5 µg/100cm2 in a high-use area or 3.8 µg/100cm2 in a limited-use area.
What are the guidelines for testing for Methamphetamine contamination in New Zealand?
In June 2017 the first New Zealand standard for Meth testing was released. "NZS 8510:2017 testing and decontamination of Methamphetamine-contaminated properties" has resulted in some crucial changes for the testing of Methamphetamine; some of these include:
All high-use areas should be tested
Companies undertaking the screening tests for Methamphetamine must be independent of decontamination companies
The requirement to collect background information to identify the number and location of exhaust fans on the property, recent renovations that may have occurred, copies of any reports on previous inspections, on-site waste water systems, etc.
Mandatory requirement for field blanks to be taken for every 20 samples taken to ensure sufficient protocols are in place and being taken to prevent cross-contamination
For more information on the new standard and its implications, have a read of our blog article
Where can I find out more?